Attention Golfers Who Lack Consistency…
"This FREE Special Report Finally Reveals The ONE Missing Golf Improvement Link They've Been Trying To Keep From You So You'll Always Remain Inconsistent"
And When You Arm Yourself With This New Information You Can Have The Golfing Consistency Of Your Dreams Without Changing Your Swing, Spending Hours Practicing Or Getting Worse Before You Get Better!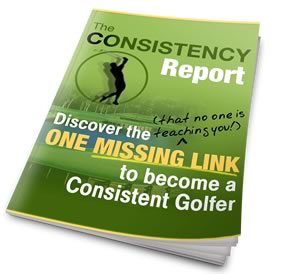 If you're frustrated that your golf game doesn't get much better no matter how hard you try then you must read this controversial special report right now.  Because it exposes a hidden golf improvement element that industry insiders are hiding from you.  When you get this special report now you'll discover things like…
Why the majoirty of the golf industry actually wants you to remain inconsistent and not improve — and what you can do to make sure it doesn't keep happening to you anymore.
Why you've never found a long term solution to your consistency problems.
How virtually all golf instruction takes you further away from ever becoming the consistent golfer you dream of — and what you need to focus on to reach your golfing dreams.
How to instantly swing with smooth, effortless power and deadly accuracy, without changing anything about your swing!
What happens to cause you to go from hitting it great one second to hitting it horrible the next — and what you can do to stop that from happening.
Plus much, much more!
To read this special report right now to find out the one missing link that no one else is telling you, simply put in your first name and email address in the form below and click the 'Get Access Now' button.
© ConsistentGolf.com. All Rights Reserved.