"This is the Tour Pro Golf Swing Secret You've Been Searching For"

Stop everything you're doing to try and hit better golf shots and instead...
Focus On This 1 Proven Tour Move That Separates Them From You... And Use It To Gain Effortless Distance, Increased Consistency, And Accuracy
Strangely... this tour pro move does NOT require any special flexibility or athletic ability from you!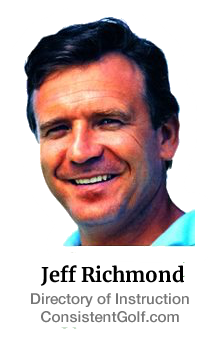 It's Jeff Richmond here, Director of Instruction of ConsistentGolf.com and I can almost guarantee that you will be doing one move in your golf swing that is the complete OPPOSITE of what great golfers do. The likes, of Brooks Koepka, Tiger Woods, Dustin Johnson, Justin Rose... and the list goes on.
How can I be so sure?
I'll get to that in a minute but ironically, this doing this tour pro move has NOTHING to do with athletic ability or flexibility.
But I will be totally honest with you.... when you start doing the tour pro move you will not hit the ball as far as Tiger, Brooks or Dustin Johnson BUT you will add at least 20+ yards to your drives, you will hit the ball straighter and more consistently.
What is the one tour pro move? Keep reading to find out...
Look, the only way you're going to improve your golf game by a big margin is to do something completely different in your golf swing. That's why I'm offering to help you by personally looking at your swing, analyze it and then I will tell you whether you're doing this one tour pro move or not.
You will get a Yes or a No.
Here's why I'm doing this...
Over 24 years of being in the golf industry I have completed over 3587 swing reviews and looking back now it's obvious there's one swing move that tour pro's do that amateur golfers don't.
But that realization hit me like a ton of bricks recently when I was forced to do 29 swing reviews in one day!
You see... recently I offered a special bonus for one of my products where golfers could get a swing critique personally from me. I had many take me up on that offer. To be honest, it was a dumb offer because there were too many swing critiques and my time is very valuable. I was slowly getting through them but naturally people were asking me...
"What do you think of my swing?"
"What should I work on?"
"When are you going to review my swing?"
I had a backlog of golfers wanting me to critique there swing.
I had to do something about it.
So I set aside one day to crank out 29 swing reviews.
Every golfer of the 29 had little things different with their swings BUT every single golfer had one BIG thing wrong.
And it's the exact opposite of what the best Tour Players do.
That's when it hit me like a ton of bricks!
There's one key move that separates tour pro's from the average golfer.
After this came into clear focus I researched this move to find out more information on it. And I found underground research into this one move that found this one move was the main difference between pro's and amateurs. In fact, 39 out of 40 pro golfers did this move and 40 amateurs tested did not!
It wasn't long after discovering that, Covid-19 hit and forced me into lockdown. So I thought it would be a great opportunity to help golfers out. I contacted all 29 golfers that I did the video critiques for to find one that I could work with over the lockdown period to help them once and for all make the tour pro move.
And I found one that was willing to follow my instructions to the letter.
So over the lockdown period I worked 1 on 1 with this golfer... remotely, gave them drills, tips and advice to help them change their swing so they now make the tour pro move. The before and after of their swing is remarkable as you'll soon see.
Because I could not do in person coaching this project has become my life work in the golf industry and I want to now share it with as many golfers as possible.
It is that important!
But you may already be doing this tour pro move but I want you to be certain so here's what I'm going to do...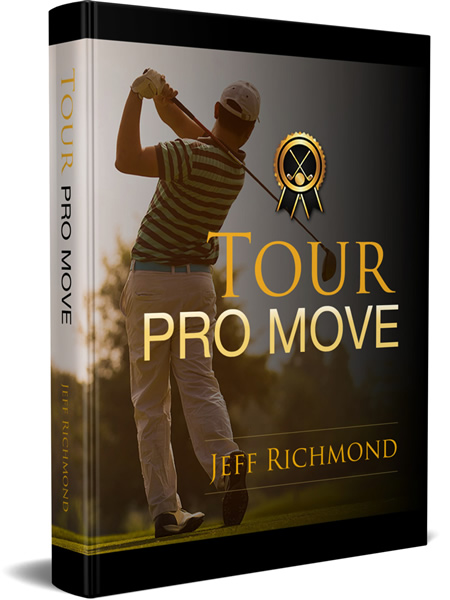 When you purchase The Tour Pro Move now you'll get instructions on how to test whether you're doing this move or not. And if you're not sure, send me a video of your swing and I will give you a definite YES or NO whether you are doing this move. And I will show you compared to top pro's.
Obviously, this is going to take up my valuable time, but it's very quick for me to look for one thing in your swing rather than lots of little, inconsequential things.
Honestly, not doing this one move is probably holding you back from ever-improving your ball striking.
But if you are doing this move I want you to go directly to Clickbank and ask for a refund and they will refund your purchase very quickly
However, if you are NOT doing this one tour pro move you will have all the step-by-step instructions on how you can start to implement the move into your swing.
This has to be your top priority right now.
So make a start because you will not get different ball-striking results unless you do.
But this is not like your typical golf improvement product where some pro just talks to you and tells you what to do.
No!
This new Tour Pro Move program shows you an average golfer's swing at the start without doing the tour pro move and then I give them the step-by-step instructions and drills to fix it. You can see there progress at every step. You will then be able to do the same for your golf swing.
Honestly, there's nothing like this program anywhere.
So click the Add to Cart button below and follow the instructions on what I need from you to confirm whether or not you do the one tour pro move or not.

Look, you need to find out if you're doing this one move or not. Because if you're not, then whatever else you try to improve your ball striking will largely be a waste of time. That includes buying expensive drivers, going for lessons, buying gadgets etc.
If you want to improve, you must know whether you're doing this one move or not. So if you find out that you're doing this one tour pro move then you can simply get a refund. But if you're not, then you need to focus on doing it. It should be your top priority.
So click the Add To Cart button now, and complete the payment process and find out, once and for all, if there's one move in your golf swing that's holding you back from ball striking success.

For Consistent Golf,

P.S. You could have just One Move That's Costing You Most Of Your Ball Striking Problems. And because of how serious this is, I will Personally Check To See If you are doing this move and let you know with a Yes or No!
Your first thought is that the move is so hard you have to have some special athletic ability to do it.
If you're thinking that, you're wrong.
The move the top tour pro's make does not require any special ability.
But because they do it and you probably don't, they will always hit the ball longer, straighter and more consistently.
And if you want more distance then you need to find out what the one move is, and copy it.
Forget everything else, just focus on one move.
Stop watching one video after another.
Stop buying one club after another.
Stop going for one lesson after another.
Instead, focus on the biggest bang for your buck move that is guaranteed to improve your ball striking.
Remember, out of the Millions of things you can do to improve your golf swing there's 1 Move that separates top tour pro's from the average amateur.
Are you Making The Tour Pro Move?
Click the Add To Cart button below to find out

---
ClickBank is the retailer of products on this site. CLICKBANK® is a registered trademark of Click Sales, Inc., a Delaware corporation located at 917 S. Lusk Street, Suite 200,Boise Idaho, 83706, USA and used by permission. ClickBank's role as retailer does not constitute an endorsement, approval or review of these products or any claim, statement oropinion used in promotion of these products.
© ConsistentGolf.com. All Rights Reserved.